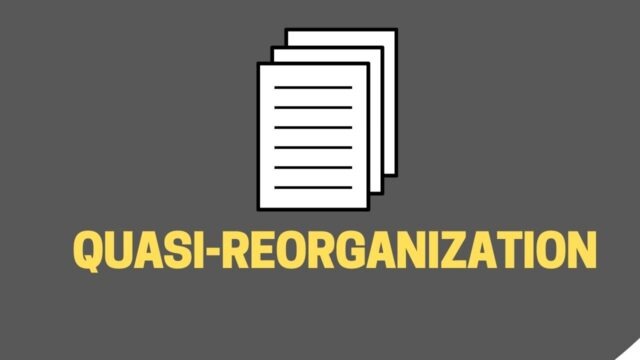 What is quasi-reorganization and what are the benefits for businesses
A quasi-reorganization is a type of financial restructuring in which a company makes minor changes to its balance sheet without officially changing its corporate structure. This can be done by moving assets and liabilities around on the balance sheet, or by changing the way that financial statements are reported. Quasi-reorganizations can be used to improve a company's financial position without triggering a major reorganization, which can be costly and time-consuming. In addition, quasi-reorganizations can be used to make a company's financial statements more accurate and informative. As a result, they can provide valuable insights for investors and creditors. Ultimately, quasi-reorganizations can be beneficial for both businesses and their stakeholders.
How to go about quasi-reorganization if your business is considering it
If your business is considering a quasi-reorganization, there are a few things you should keep in mind. First, quasi-reorganizations are only available to businesses that are insolvent or close to insolvency. Second, in a quasi-reorganization, creditors are paid in full, but shareholders may receive only partial payment. This can be done through a rights offering, in which shareholders are given the opportunity to purchase new shares at a discounted price. Finally, quasi-reorganizations can be complex and time-consuming, so it is important to consult with an experienced attorney before proceeding. With these considerations in mind, it can be an effective way to restructure your business and improve your financial stability.
What are the steps involved in quasi-reorganization
A quasi-reorganization is an accounting procedure used to reclassify a company's financial statement items without actually changing the company's legal structure. The goal of a quasi-reorganization is to create a more accurate picture of the company's financial position and performance. The reorganizations are typically used in cases where a company has experienced significant losses or negative equity. In order to complete a quasi-reorganization, the company must first obtain approval from its shareholders.
Next, the company's accountants will reclassify the financial statement items in question. Finally, the company will restate its financial statements for the current period and for any prior periods that were affected by the reclassification. While a reorganization can provide valuable information to shareholders and other stakeholders, it is important to remember that it does not actually change the legal status of the company.
The pros and cons of quasi-reorganization
A quasi-reorganization is a financial reorganization that changes the reporting of an organization's assets and liabilities without changing the underlying economic reality. The main purpose of a quasi-reorganization is to make the financial statements of an organization more understandable and informative. However, there are some potential drawbacks to this type of reorganization. First, it can be difficult to properly value the assets and liabilities of an organization. Second, the reorganization can give rise to tax implications. Finally, it is important to note that it does not change the underlying economic reality of an organization; it only changes the way that reality is reported. As such, it is important to carefully consider the pros and cons of a quasi-reorganization before embarking on this type of financial restructuring.
How to know if quasi-reorganization is right for your business
Many businesses find themselves in need of a financial refresh at some point. When profits are slipping and debt is mounting, it may be time to consider a quasi-reorganization. This type of corporate restructuring can provide much-needed relief from creditors and help to revitalize the business. But how do you know if it's the right move for your company?
First, consider the financial health of the business. If there is a large amount of debt and little cash on hand, a quasi-reorganization may be necessary to stay afloat.
Next, look at the company's overall profitability. If profitability is trending downward, a quasi-reorganization could help to turnaround the business.
Finally, assess the competitive landscape. If the industry is consolidating and your company is struggling to keep up, quasi-reorganization could give you the boost you need to stay competitive. By carefully evaluating your company's situation, you can decide if quasi-reorganization is the right move for your business.