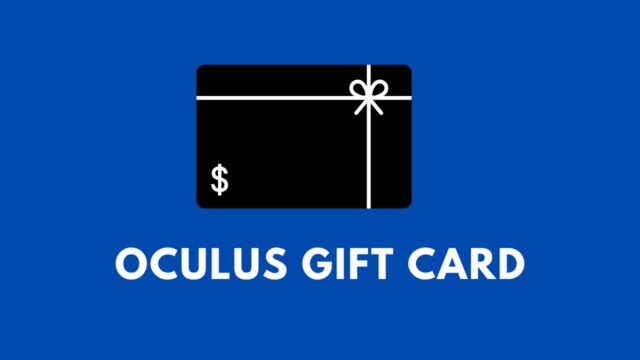 Gaming has come a long way, from simple pixelated games on consoles to realistic virtual reality games that transport you into another world. And with the ever-increasing popularity and demand for virtual reality games, Oculus has become one of the leading names in the VR gaming industry. If you know someone who's an avid gamer or a tech enthusiast, then an Oculus gift card might just be the perfect present for them. In this blog post, we'll dive into everything that you need to know about the Oculus gift card.
What is an Oculus Gift Card?
An Oculus Gift Card is a digital voucher that can be redeemed for games, apps, and other VR experiences available in the Oculus Store. You can purchase these gift cards online or in select retail stores depending on your region. These gift cards come in different denominations and can be used for a variety of Oculus devices, including the Oculus Quest 2, Oculus Rift, and more.
How to Use an Oculus Gift Card
Redeeming an Oculus gift card is simple. All you need is an Oculus account and an Oculus device. Here's a step-by-step guide:
Log in to your Oculus account and go to the Oculus Store.
Select the "Redeem Code" option.
Enter the gift card code in the field provided.
Click on "Redeem" – that's it!
The gift card value will be credited to your Oculus account, and you can use it to purchase games and apps.
Advantages of an Oculus Gift Card
An Oculus Gift Card is an excellent present for gamers or anyone who loves to experience virtual reality. Here are a few reasons why a gift card is a better option than buying games directly:
The receiver can buy the game or app of their choice.
The gift card value does not expire, so there's no need to rush to use it.
The receiver can wait for sales or deals to buy games and get more value for their money.
Where to Buy an Oculus Gift Card?
You can purchase an Oculus Gift Card from online stores like Amazon, Best Buy, Walmart, or directly from the Oculus website. The gift cards come in different denominations ranging from $10 to $100, depending on the store and region. You can also opt for e-gift cards if you're short on time and need a last-minute gift.
Conclusion:
The Oculus Gift Card makes an excellent gift for anyone who enjoys gaming and virtual reality. It's an easy and convenient way to give someone access to a wide range of Oculus experiences that they might not have otherwise been able to afford. And with the added advantages of flexibility and no expiration date on the gift card value, the receiver can choose when and how to use it. So, go ahead, buy an Oculus Gift Card, and give someone the gift of immersive gaming and virtual reality experiences.