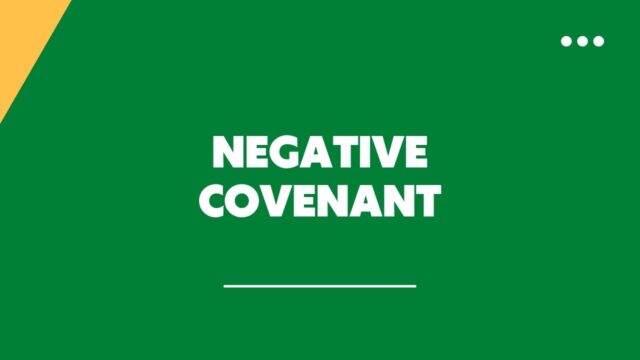 What Is a Negative Covenant?
A negative covenant is a term you may have heard a lot. These agreements are often used in non-compete and non-solicitation agreements, among others. They are legally binding and may have a number of different consequences. Listed below are some of the types of agreements you may have encountered.
Asset sale covenant
What is a Negative Asset Sale Covenant? Basically, this covenant prohibits a borrower from selling any of the assets that he or she owns during the term of the loan. This includes any sales, conveyances, or dispositions of those assets. Whether a sale is permitted or not depends on the circumstances surrounding the transaction. The following are examples of covenants that a borrower may be required to follow during the term of a loan.
A negative asset sale covenant restricts the issuer from distributing dividends or paying other payments to equity holders. These restrictions generally increase with the amount of net income and equity contributions of a company. A Negative Asset Sale Covenant also limits a borrower from paying dividends or restructuring upper management without approval from the lending party. It is important to note that this restriction does not mean that a borrower can't sell assets if it meets the covenant terms.
Restricted payments
A negative covenant can prevent an issuer from making some or all of the payments that would normally be allowed under the loan agreement. For example, a restricted payment could prevent an issuer from making dividends on its capital stock or payments to junior obligations before the loan is fully paid off. In some cases, an issuer could opt to bring a previously unrestricted subsidiary back into the restricted group. In such a case, the issuer could choose to restrict payments for the same reasons as before – the positive net income and free transfer of assets.
Exceptions to negative covenants are generally limited to specific situations. Most exceptions are designed to allow a borrower to continue operating in the normal course of business, while others recognize that the borrower needs to take certain actions due to changing market realities. Generally, these exceptions are narrowly tailored and limit the amount of money that can be spent on specific activities. Restricted payments under negative covenants are often used to prevent the borrower from using equity to fund growth.
Non-solicitation agreement
In many businesses, it is a requirement for a key manager or top-level executive to sign a non-solicitation agreement. In some cases, a buyer may want to require the seller to sign one in order to prevent the former employee from taking away existing customers and employees. Typically, a non-solicitation agreement prohibits the employee from soliciting business clients or employees from another company. The term "solicitation" refers to a request for something, and it can be anything from money to an old company contact list.
A non-solicitation agreement is useful in many situations. It protects important customer relationships and employee relationships. Solicitation occurs when a departing employee solicits their friends to leave the company, poaches a customer or solicits them. Non-solicitation agreements are usually in place for the entire length of the contract, and even include a special transitional clause to protect both parties. It is important to know the limits of a non-solicitation agreement when you're considering one for your own business.
Non-disclosure agreement
A non-disclosure agreement restricts one party from disclosing a party's confidential information. It prevents the other party from disclosing trade secrets, innovations, or other proprietary information that a party obtained from the other. In many cases, a negative covenant will also prevent one party from soliciting or hiring the other party's customers or employees. The purpose of a non-disclosure agreement is to prevent the other party from disclosing the information that will hurt the other party's business.
The term "non-disclosure" can be vague or very specific. For instance, if the agreement restricts employees from talking to regulators, they won't have the right to speak up about workplace malfeasance. For this reason, the contract will not be enforceable. It is important to make sure that the covenants protect the interests of both parties. In addition, non-disclosure agreements should not prevent employees from speaking out about workplace abuse or other forms of misconduct.