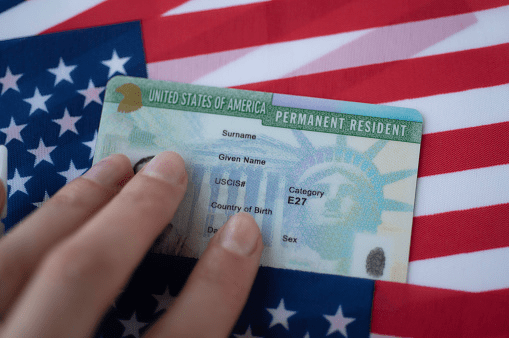 The United States, located in the North American continent, is the economic center of the globe. 
Home to major cities like Los Angeles, Las Vegas, Chicago, New York, Miami, and San Francisco, it is an appealing country for most people to work and live in. Every year, thousands of people apply to become permanent residents of the country, and you probably intend to as well – but to do so, you need a green card.
What exactly is the Green Card?
A Green card is a permanent residency card. Most people often use the term interchangeably with citizenship; however, a green card is more limited. 
Green card holders have the right to reside in the United States indefinitely, possibly their whole lives. This grant also includes the right to work in the country and petition to have close family members reside with you, that is, your kids and spouse. However, your kids must be unmarried and under the age of 21.
The green card grants you certain rights and responsibilities and grants you official immigration status in the US. It is also required if you want to naturalize as a US citizen. However, as a permanent resident you do not have the right to vote, and you remain subject to deportability. 
Where the investment comes in
There are various ways to attain green card status in America – employment, family, refugee or asylee status, and many others. However, many people do not know that the country sets aside thousands of visas yearly for a special type of immigrant – business investors.
The rationale for this is quite obvious – it pumps money into the economy. The United States, like many other countries that provide this option, does so to encourage investment and employment creation in the country. It is willing to grant priority to individuals who can satisfy the investment requirements.
How it works
An investor can obtain a US green card under two programs; the E-2 nonimmigrant program and the Employment Fifth Preference program also known as the EB-5 immigrant program. 
Unfortunately, obtaining the card is not as simple as just purchasing the card. There are strict requirements to be eligible for this program. The EB-5 immigration program is the fastest but most expensive way to become a green card holder by investment.
Getting Your EB-5 Visa Investment Visa
In the process of getting your EB-5 investment visa, you must invest a required amount into an existing US business, or create a new business in the United States, of which you must be an active part, at least initially. 
The business must employ a minimum of 10 full-time workers, create a service or product, and benefit the United States economy.
The requisite amount for this investment is $1,800,000. For rural areas or areas with low unemployment rates, the minimum amount is $900,000. 
Investment can come from any means, whether income, grants, or even loans, as long as the investor is personally liable for default in payments. Either way, it must be from a lawful source, and the investment cannot be for a nonprofit organization.
You can invest independently; however, there is also the option to invest through regional centers. Regional centers are private or government organizations set up to promote the economic development of certain regions.
These bodies have business projects already approved for investments and usually work with companies in rural areas or with high unemployment rates.
Green cards obtainable by investments were formerly limited to 10,000 a year, but this figure was doubled in 2021. A certain amount is also usually reserved for investments in rural areas or areas of high unemployment. 
The quota is counted based on the actual person investing and not their family members who may accompany them.
The E-2 program is quite different and more limited. For a person to be eligible for this program, they must be citizens of certain countries that have made a special agreement with the US. 
There are only six of these countries – Bulgaria, Egypt, Montenegro, Turkey, Grenada, and Moldova. The main advantage of this visa is that the investment amount is significantly lower – as low as $100,000, and you only need to create a minimum of five jobs.
The process for obtaining the EB-5 investment
The first step in obtaining the EB-5 visa is to search for a suitable project. You can either start your business project or search for an investment project.
You can find the investment company independently, or opt for a regional center. Regional centers have the advantage of affordability since they usually work with rural companies, which have a minimum investment of $900,000.
After investing in the project, you then submit an I-526 petition for the EB-5 visa to the USCIS, where you show documentary evidence of your investment along with your business plan. 
The petition is processed for 12 to 18 months, after which you and your family would go through an interview process. You then obtain a temporary green card, which lasts for two years. 
During this period, you must create and maintain these ten jobs, and stay in the US for more than six months a year. A violation of these would lead to a cancellation of the visa.
After living in the country for a year and nine months, you are allowed to file an I-829 petition to obtain a permanent green card. The process takes at least six months to review, after which the person and their family are granted a permanent green card for 10 years.