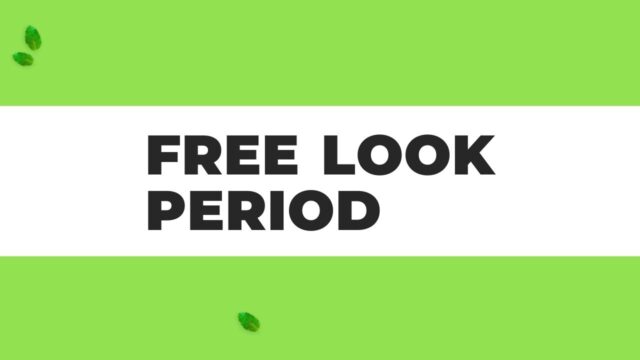 Cancelling Insurance During the Free Look Period
Many consumers wonder if they can cancel their insurance policy during the free look period. This period usually lasts anywhere from 10 to 30 days, depending on the insurance policy. However, some agents may try to drag it out, preventing cancellation. Term insurance plans are subject to medical tests and stamp duty expenses. Insurers also have the option to deduct risk premiums before cancelling the policy. For this reason, it's crucial to contact the insurer in writing before canceling your policy.
10 to 30 days
If you're not satisfied with your life insurance policy or if you simply want to cancel it, you can always request a refund for your policy within the free look period. Most insurance companies are happy to give you the money back, minus any stamp duty charges. You may also request a refund for medical check-ups that you have had during the coverage period. To initiate the return process, call the insurer or send an email. You should include the original documents with your request.
You can use the free look period to get a feel for the policy and its terms and conditions before making a decision to continue. In some cases, this period begins on the date you receive your policy documents. After obtaining your policy documents, you have up to 15 days to evaluate and understand the terms of the policy. Use this time wisely, or you might run into trouble with your insurance carrier. By requesting a free look period, you'll be able to avoid conflicts.
Life insurance
Many consumers accept a salesperson's pitch without understanding the terms of the insurance contract. A free look period gives you a chance to review the details of your policy without feeling obligated to accept. In addition, insurance policies are filled with legal jargon and are difficult to understand without an agent's explanation. In some cases, however, the free look period allows you to change your mind without penalty. Here's how to use it to your advantage.
The free look period gives you 10 to 30 days to change your mind and cancel your policy without paying any surrender or cancellation charges. Most life insurance companies will refund you the premium you've already paid during the free look period, and you don't need to provide a reason for the return. If you decide you no longer want the policy, you can receive a refund of your premiums or part of them, depending on the terms of the policy.
Health insurance
If you are considering enrolling in a health insurance policy, you might want to take advantage of a free look period. Under the Affordable Care Act (ACA), insurance companies must give you a reasonable amount of time to make your mind up. This period is generally thirty days, but it can be as short as seven days. You may also request a refund during your free look period. Then, you can cancel your policy at no cost and get a full refund.
The IRDAI has introduced a 15-day free look period that allows policyholders to review their policies and request changes. This allows policyholders a chance to evaluate their benefits and decide whether or not to keep their policy. The free look period allows policyholders the opportunity to review their coverage and make changes if they're not satisfied. It is also a good idea to read through your policy documents carefully.
Annuity
A free look period is a good time to shop for an annuity. During this time, you can call your carrier and check on the promises made during the sales pitch. If you decide you don't want the annuity, you can request a full refund of your premiums. The free look period is generally a week or two after you sign up for it. You should request your refund in writing if you want it.
Many states allow consumers to review their annuity contracts for free or get their money back if they're not satisfied. It's important to note the details of the free look period, since it can vary greatly. Because there are thousands of annuity products available, consumers should read their contracts carefully during the free look period to avoid pitfalls later on. The contract design and features of each annuity vary widely. Knowing the differences will help you decide if you're making a good choice.