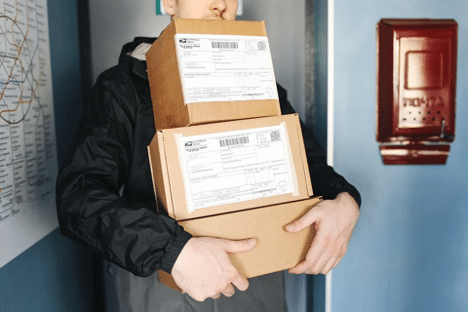 While outsourcing deliveries can be a good option for some companies, there are certainly several ways in which adopting an in-house delivery service can help retail businesses to increase their sales.
Whether you run an online retail business or own a brick-and-mortar store, here are three ways in which you could boost your sales with in-house delivery.
1. In-house Delivery Enables Enhanced Quality
If you want to increase sales in retail, providing quality is the key. That not only means providing quality products and customer service. It also means providing customers with a quality delivery service.
Outsourced couriers are more interested in simply completing their rounds quickly. They will not be thinking about how they represent your company and its values.
Yet, often, drivers are the only ones who have contact with your customers. That is especially true for eCommerce businesses.
Therefore, you need the drivers to represent the face of your company, such as remembering to always do little things like smiling and being polite and friendly when delivering items to customers.
In turn, your brand will become synonymous with providing quality, friendliness, and reliability, and you will soon increase your sales. Find out more about how to handle your own deliveries so that you can reap the benefits.
2. In-house Delivery Allows You to Stand Your Own Ground
You may think that offering customers delivery options with well-known delivery companies is a better way to boost profits than in-house delivery.
But in addition to being able to ensure you have control over couriers' customer service, operating an in-house delivery service can help you to not be in direct competition with your rivals.
That is because third-party couriers have their own incentives. For instance, a third-party delivery company will often prioritize the ease of purchasing from any retailer on its application. While that is beneficial to customers, it is not beneficial to all the retailers because it is easier for customers to buy the same or similar products from retailers.
Use the right tactics and you can increase your sales by avoiding competing with rivals and offering your own quality delivery service.
3. Knowing the Right Time to Provide In-house Delivery Can Be Crucial
If you are just starting your retail business, it can be less expensive to outsource deliveries, to begin with. By reducing delivery costs, you can use the money on areas like marketing to attract more customers and therefore increase your sales.
However, in the long run, it can be more cost-effective to set up your own fleet of couriers. The trick is knowing the optimal time to make the change.
Like any business decision, take time to weigh up the pros and cons and perform calculations to discover when it is the best time to begin in-house delivery.
Final Thoughts
Consider your specific industry and company to discover how you can increase sales further by providing in-house delivery.
Some companies may benefit from introducing in-house delivery services from the beginning of their business ventures while others could be better off outsourcing to start with.
For example, if you run a physical retail business and only deliver to your local area, it could make sense to set up an in-house delivery system from the get-go.
You could provide couriers with bicycles or motorcycles or hire people with their own transport. You then get to reduce costs significantly and ensure your couriers provide quality customer service. In turn, you will increase your sales.
On the other hand, if you are intending to deliver products far and wide, it will take time to build the resources and funds you need to operate a fleet, so outsourcing could be the best initial option. But ultimately, adopting an in-house delivery approach is usually the best way for increasing sales.