Spring is on the horizon and you know what that means. It's time for you to get your garden ready for the warmer months. Whether you're planting new flowers or creating an awesome space to hang out outside, it's best to start early.
But what if you're on a tight budget? Can you still make any substantial renovations to your outdoor space? We think so!
We're here to talk about some of the best things you can do to revamp your space without emptying your wallet. You don't have to be rich to have a great garden. Read on for our top recommendations.
Create a Vertical Garden
This is a great option for people with gardens of any size or people who don't even have literal gardens. If you only have a small patio to work with, you can still grow plants. Make the most of the space you have by growing a vertical garden.
Vertical gardens are great DIY projects and they're perfect for people who've never even grown anything before. You can easily grow small plants like herbs and succulents in your vertical garden as a beginner.
You can also make a less traditional "vertical garden" by setting up a ladder with wide rungs and placing potted plants on each rung. You'll get a tiny patio garden for a low cost!
For even more savings, thrift your plant pots! You can find great pots for your plants for only a dollar or so per piece at most thrift stores.
Add a Water Feature
Depending on your budget, adding a water feature might be challenging. This is also true if you only have a limited amount of space to work with. If you do have room and space in your budget, it can be a great addition to your garden!
So what type of water feature should you be going for? You could opt for a fountain. You may have seen wall water fountains placed in the lobby of a hotel or office building, but you could also have a wall fountain in your garden. Again, a fountain against the wall is a good option for people who are working in small spaces.
You could also opt for something even more budget-friendly and just add a bird bath. It's not as elegant as a fountain, but it's still a nice addition to your outdoor space (and it's great for the local birds!).
Repurpose Thrifted Furniture
There's plenty of awesome and elegant backyard furniture available, but it can get expensive. If you're on a budget, buy used furniture and make it your own. You'll save money and you'll end up with some truly unique pieces.
If you're lucky, the furniture you buy at the thrift store will already be outdoor-friendly. If it's not, you just have a small (but fun) project on your hands. You can weatherproof furniture to use outdoors! It's time-consuming, but it's not as hard as you'd think.
There are some serious gems at thrift stores, estate sales, and "buy and sell" pages online. When you repurpose an old item, you get the opportunity to give it new life and keep it out of a landfill while you save money.
Create a Simple Stone Path
Setting up a walking path is cheap and easy. A walking path is a great addition to any large garden and it can keep visitors from accidentally disrupting your plants.
You can buy some affordable pavers from the discount section of your local home and garden store for this project. Either use them as-is or crack them apart to create interesting shapes. Those shapes will turn into your stepping stones.
If you want something a bit fancier, you can make your own with concrete mix, molds, and some colorful shattered glass. This is more time-consuming but it's still affordable and you get customized results.
Set Up Easy Mood Lighting
Outdoor lighting should never be expensive. You can set up awesome mood lighting for just a few dollars and you may already have what you need.
Two words: string lights.
String lights aren't just for the holiday season. You can find them through your fence posts or hang them overhead to create a gorgeous outdoor space. They make any garden look whimsical and fun.
If you don't already have string lights, wait until the next post-Christmas sale and you'll be able to get more than enough lights for your entire garden for less than the cost of a fancy iced coffee.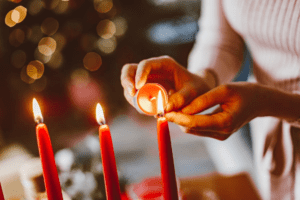 Build Your Own Fire Pit
Speaking of lights, why not bring some firelight to your garden? A fire pit is an awesome addition to any outdoor space. You can stay warm and cozy during chilly nights and even roast some marshmallows.
Fire pits aren't generally expensive if you go the basic route, but you could also make one. You just need a few thick pavers or cinderblocks, some bricks, and something to light the fire. You may also want a grate to go over the pit.
Be careful with homemade fire pits. Always do a trial run before using it with friends.
Paint a Backyard Mural
Beautify your garden with a few buckets of paint and some creativity. If you own your property, a backyard mural is a great idea. Get your friends and family members involved as well.
A backyard mural is great for a fence or the side of a shed. If you don't own your property, you can also buy several large pieces of wood to paint and set up against the fence instead. This way, you're not making any permanent changes to the property but you still get to be creative. Bonus: if you move, you can take your mural with you.
How Will You Remodel Your Garden?
Remodeling a garden on a budget is tricky! Keep these tips in mind next time you're trying to improve your garden without spending a lot of money. You'll have an awesome outdoor space without breaking the bank.
Do you love learning all about saving money? Don't forget to visit the rest of the site for more helpful budgeting tips!