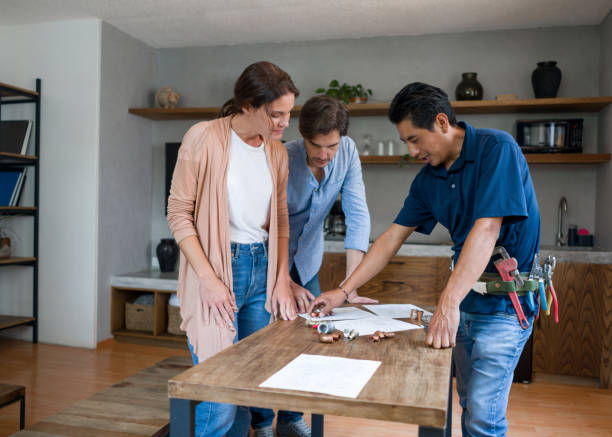 Staying within your budget is not always an easy task. Even more difficult is coming up with a spending plan for a bigger project you've never undertaken before. Nevertheless, building a workable budget for home improvement expenditures necessitates a thorough plan and lots of homework.
Luckily, we've already done the bulk of the research for you. All you need to do is adhere to the guidelines below to prepare a renovation spending plan that will prevent you from going overboard on the next makeover.
How Much Does a Home Renovation Cost?
Renovating a 1,000-square-foot home typically costs $19,000, according to studies. The average price for houses between 3,000 and 4,000 square feet rises to $87,500. Older homes typically cost more to renovate than newer ones, especially if the wiring, plumbing, and other systems aren't code-compliant. Generally, any refurbishment will cost between $10 and $60 per square foot.
Prioritizing tasks by room and basing your budget on the price of each one may make it simpler and more economical to come up with a spending plan.
How Much Should I Allocate for Home Improvements?
To obtain a rough estimate of what your renovation budget should be, assess the overall valuation of your property. A single room shouldn't cost more than 15% of the value of your house. If you spend more, the renovation price won't increase your home's value proportionately.
For instance, the most you should spend on redesigning the kitchen or bathroom is $30,000 for a property worth $200,000. Of course, if your property is higher in value, the cost of a refurbishment can go up.
Other than that, it may be really challenging for a householder to know where to begin most of the time. We advise hiring a design-build professional as early in the process as possible. They will discuss your requirements and preferences with you during the initial visit, and they can also help you construct a design that is achievable for any budget. There are many ways homeowners find ways to fund home improvement projects. Some pay cash, where others borrow from their equity from bank loans, or even reverse mortgages. If you are an older homeowner and searching out an appropriate reverse mortgage plan, check how much money you can get with the help from ARLO's online calculator.
Make Financing Decisions Before Finalizing Your Spending
Before establishing a budget, you must decide how to pay for your home improvement. The remodeling budget must be in line with your available funds, whether you are paying cash, taking loans, or asking for credit.
After knowing how much you can invest, set aside about 20% of your discretionary money for unforeseen costs. This is key. Problems will arise, and some things will definitely cost more than expected. That's why you have to keep aside a portion of the budget so that no matter what transpires, you will always have enough money to complete the project.
After deciding how much money you will spend, use the steps below to make a thorough strategy.
Making a Clear Budget: Step-By-Step
Step 1: Make Priorities
Knowing exactly what you want before you start a renovation is the simplest approach to remaining inside your budget. Make a list of everything you want the project to cover, then classify the things into necessities and wishes.
Step 2: Make a Spending Estimate for the Plan
After settling on your target, make a thorough outline for your home improvement that includes probable expenditures. By doing this, you may create a renovation budget and tell your contractors exactly what you want.
Create a file that details each project aspect along with the projected labor and material costs. To create cost estimates:
Decide on the fixtures and finishes you want, then estimate the cost. Include any other materials you'll need, such as paint, knobs, faucets, tiling, and flooring. Don't forget to factor shipping and tax charges into your resource calculations.
Include the appliances you desire and the average price of each. Add the expense of delivery, installation, and disposal of the appliances.
Step 3: Get Proposals from Several Contractors
Find nearby businesses that have favorable reviews and get a quotation from them for your task. For an accurate pricing comparison, request offers from at least three businesses.
Once you've decided on a contractor, ask them to review your project plan and budget for home improvements to check for any expenditures you might have missed.
Final Thoughts
As you can see, there are many things to consider while renovating your home; good financial planning can be a lifesaver for you!
Thank you for reading! Share this article with loved ones.