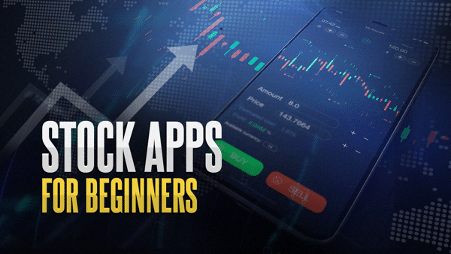 There is no doubt that smartphones revolutionized the way people go about their daily lives. While the concept of an app may seem like a relatively novel thing, the first piece of dedicated software for mobile use appeared in 1997. That was the now legendary arcade game, Snake, for the Nokia 6110 phone. Naturally, most people connect the debut of the Apple Store as the thing that set off the app boom, along with the accompanying rise of Android technology. Regardless of where this software came from, there is no argument now that it rules the world, with smartphone applications available for pretty much every purpose imaginable.
In recent years, multiple internet trading platforms have sprung up, bringing the excitement and money-making opportunities of the stock market to a new generation of investors. In the past, young people faced a barrier to entry into this sphere due to the perception that they had to be a part of a small society that someone had to help them navigate. However, in an attempt to grow user bases, stock trading brokerages have sought to make things as easy as possible by developing simple-to-understand interfaces and providing no commission trading. That means, nowadays, anyone with some business acumen and a nose for opportunities can make smart investments that can lead to long-term profits.
Therefore, below, we review the top five trading apps for those with little to no experience in how the stock market works.
Acorns
Many users refer to Acorns as a spare-change savings tool that makes investing easy. It helps them add all their purchases made via linked debit/credit cards and then gather all the left-over scraps into a software-managed investment portfolio. The drawbacks of this app are that it has high fees on small balances, and it does not offer a tax strategy. That said, those that choose to use Acorns can get cashback at more than three hundred and fifty retailers. It is an ideal option for those looking to save, and it only requires $5 for people to start exploring investment options. The software has an automatic rebalancing plan and customer support on hand every day from 5 AM to 7 PM.
Robinhood
Robinhood became fairly popular in 2020 and early 2021, with the GameStop stock scandal, which raised concerns on how new young investors are using the easy-to-access app, including the debate if investing with Robinhood is like gambling, as mentioned by the iGaming review site OUSC. It offers commission-free ETF, stock, and trade options on a platform that includes free crypto trading. There are no Robinhood account minimums, and the app's interface is perfectly streamlined. Its chief negative aspect lies in the limited availability of customer support and not offering mutual bonds or funds.
Stash
The word stash gets defined as a secret place to store something. In 2016, it got adopted by a New York-based financial technology company that now has a user pool of over five million people. Its app got launched in late-2015 at the Apple Store, and it hit Google Play in early-2016. The goal of this software is to marry an AI-managed automated portfolio with DIY investing. It falls short in that it has no tax-loss harvesting and no auto-management for the IRA. Still, it is one of the best options for those new to this field because it has value-based investment offerings and fractional shares. 
Vanguard
Vanguard is a privately held investment advisory from Malvern, Pennsylvania. It has been active in this sector since 1975, founded by business magnate John C. Bogle. Vanguard ranks as the king of low-cost investing, the most suitable market choice for retirement savers. That is so because it drooped its stock trading costs to $0 in January 2020 and offers a vast selection of mutual funds. The app now targets ETF and index funds investors that are looking at the big picture, long-term. Common complaints regarding Vanguard are that it provides limited research data and that overall, it is a rudimentary trading platform.
Webull
Webull Financial is a Chinese trading services entity established by former Alibaba employee Wang Anquan in 2017. It released its Webull app a year later and has amassed over eleven million registered users to date. It undeniably has some of the lowest fees among online brokerages and includes many of the industry-standard tools. According to sector experts, Webull ranks as software that toes the line between appealing to beginners and active traders. That is so because while it boasts an easy-to-use interface, it lacks educational resources. Also, Webull does not provide access to mutual funds.