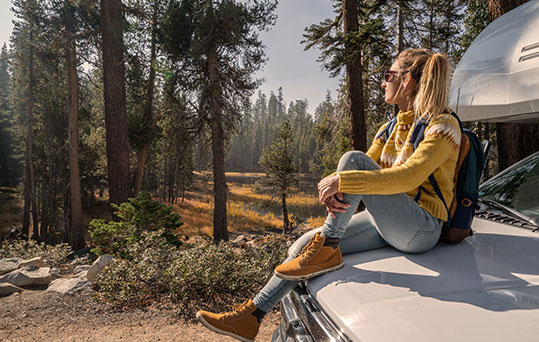 Whether you are ready to hit the open road or make a splash on the water, a recreational loan can help make those dreams a reality. Affordable rates and your choice of repayment plans are a few perks you can enjoy with a recreational loan. Here is an easy-to-navigate breakdown of the different types of recreational loans and their benefits.
What is a recreational loan?
A recreational loan is similar to other loans except that people use them to finance vehicles used for fun, such as RVs or boats. This long-term financing allows you to purchase recreational vehicles and gradually pay for them, making pricey "toys" more affordable and accessible. The boat, RV or motorcycle serves as collateral for the loan. A quality recreational loan offers flexible repayment terms so you can tailor your loan to suit your unique financial situation.
What can I finance with a recreational loan?
You have many options for recreational loans — there is a loan to suit almost everyone's requirements. For those who love the open road, recreational loans are available to finance the following:
Motorcycles

RVs

Travel trailers

Campers

Go-karts

Off-road vehicles
For those who prefer the open water, recreational loans are available to finance boats, both big and small:
Yachts

Sailboats

Jet skis

Wave runners
Where should I start?
Applying for a recreational loan is similar for both land-based and water-bound toys. A thorough overview of your finances will help inform your purchasing decisions in the future.
Step 1: Budget
The average cost can range from $15,000 for a bowrider boat to a minimum of $300,000 for a yacht. If you're looking for an RV, expect to spend $10,000-$300,000. Pricing varies depending on the age of the vehicle, features (such as audio systems, GPS, power steering, etc.), and whether it is used or new. With so many options on the market today, you will undoubtedly find a recreational vehicle that suits your budget. That leads us to the heart of step one: get clear about your budget. Consider these essential points:
Compare your monthly payment going forward with how much you can afford.

Down payment criteria will vary by lender but 10% to 20% of the purchase price is good place to start; the more you put down, the more flexible your repayment will be.

Plan for recurring expenses, such as maintenance, fuel, insurance and storage.
Step 2: Credit check
Your credit plays a pivotal role in any lending situation, and recreational loans are no different. The higher your credit score, the better positioned you are to receive favorable loan terms. Pay off any lingering debts and settle unpaid balances to boost your score. You will also want to ensure no errors in your credit reports. You can do this for free at AnnualCreditReport.com, which offers reports from major credit bureaus. If you find errors, you can dispute these reports with the credit reporting agency. A solid credit score means you are more likely to receive lower interest rates.
Step 3: Find the right lender
Now that you've done your homework, it's time to find a partner in the recreational loan process. There are many ways to secure a recreational loan; however, a credit union is likely your best bet. Recreational loans tend to be more complex, similar to a mortgage, so it's important to have the right partner to help you navigate the process. As a not-for-profit, a credit union is uniquely positioned to put its members first and offer excellent rates, personal attention and favorable terms on your loan. Some even provide members-only insurance discounts, such as guaranteed asset protection. You can also use its helpful tools, such as online applications and loan calculators, for a more convenient experience.
Shop smart by getting prequalified for a recreational loan before you start browsing. This accomplishes two goals:
You know exactly how much you can afford. This gives you the power to haggle, negotiate and understand your financial situation thoroughly.

You won't feel pressured to sign on the dotted line with a dealership. Salespeople will likely offer you financing options to pay for your new toy. Still, you can maneuver the sales process knowing you are already in a fantastic buying position since you did your homework.
Step 4: Close the deal
With the hard work behind you, it's time to close the deal and enjoy your new toy. Discuss any final costs, such as fees, insurance and storage. Before you take possession of the boat or RV, insurance must be in effect. Insurance will cost you roughly 1% to 5% of a boat's value annually. For an RV, your annual insurance payment will vary by size. For example, a small pop-up camper might cost you $100 annually, while a luxury motor home could be $1,500.
You should also factor in the storage cost if you plan to park your vehicle away from your home. The amount you pay will depend on the size of your recreational vehicle; for example, an RV could cost anywhere from $30 to $130 per month to store. You can expect to pay roughly $50 per month per foot of the boat's length for a watercraft.
Key points to keep in mind
If a recreational loan is in your future, know that it's an excellent way to finance your leisure time fun. In summary, keep these points in mind as you move forward:
New or used.

Recreational loans can be used to finance both new and used RVs, motorcycles, campers, boats, jet skis and more.

Plan flexibility.

Partnering with the right financial institution is critical because it impacts your repayment plan options. Find a credit union with friendly repayment terms that work for your lifestyle and get preapproved.

Credit.

Along with selecting the best lender, your credit score plays a significant role in your recreational loan. With a good score, you'll enjoy lower interest rates.

Holistic planning.

Remember to look beyond the sale sticker as your new purchase will require upkeep, storage, insurance and more. Make sure long-term costs fit into your budget.
Congratulations on putting your health and wellness at the forefront by choosing to relax in the great outdoors. Research can help you find the best recreational loan interest rates available. With some preplanning and the right financial partner, you're well on your way to enjoying everything nature has to offer with the help of a recreational loan.