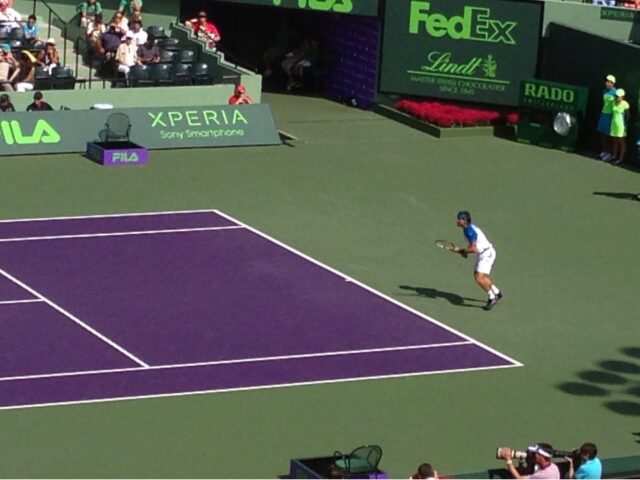 People have created so many different sports events that it might seem like a closed club and a hostile environment for somebody unprepared. Large groups of individuals speak of something weird, use a lot of terminologies and make bets only they understand. But only a bit of patience will make you one of those fans, discussing the intricacies of yesterday's game, will the new signing be good for your team, and so on.
Betting is on the same path: picking the correct sport might be challenging, but after everything clicks, it's a lot of fun along the way.
Tennis
Tennis might seem easy and predictable, based on two main points. First, it's a solo activity: gathering information on the athletes, systemizing, and analysing to predict different results is much easier than in the team ones. The reason is that there is fewer data to worry about and fewer variables when it's two people competing instead of two squads.
The other reason to consider tennis as the primary option at the bookmaker is the odds on favourites, which are easy to figure out, and the live betting. Bettors can check the latter's availability through the reviews and reliability list at https://bookmaker-ratings.com/.
Football
Football is still one of the biggest and most popular disciplines worldwide. There are not only a lot of fans for this sport, but it is deeply explored. The bloggers, journalists, and scholars gather a lot of data and provide free access to it in articles, videos, and charts.
The pundit should consider the amount of work he should do before making a bet. Football is an 11 vs. 11 game, but for some teams, a couple of star players might be the ones who make the difference. So it's essential to follow the injuries, tactics, and all the news for both sides before every game.
Combat sports
The most popular fighting organisations, such as UFC, Bellator, or M-1, deliver entertaining events which capture the attention of viewers and bettors around the globe. Top athletes work on their image, become famous figures, and do everything to hype up every clash as much as possible. Treat the "trash talk" as it is intended to be: as a part of the show, and weigh the contestants' chances based on their previous performance in the ring.
The best thing for punters is that there are two options before the event: you can put your money on either the win of the first fighter or the second. Technically, the draw exists as a choice, but there's no reason to pick it: in UFC, the percentage of this outcome in every weight class is about 1%, according to statistics.
Winter sports
The saddest thing, which users can't avoid, is that winter sports can't be your only choice. Of course, if you aren't going to include hockey in this category, we'll talk a bit about Canada's finest later.
The Winter Olympics are currently in full swing, and some categories might interest different people. For example, such classics as figure skating, biathlon, and skiing have been known for years now, so there's no need for further explanation. On the other hand, snowboarding was first adopted for use at the Olympics in 1998 in Nagano, Japan. The 24 years is nothing compared to other sports, most of which were added in 1924 – 1960.
Some of the disciplines are interesting because of their rich history, and some you might see after the Olympics, such as Ice Hockey. Since there are National team tournaments and some significant leagues, you'll find an event to watch and make a bet. But beware of the same cons we listed for football betting: many variables and analyses need to be done before placing a bet.