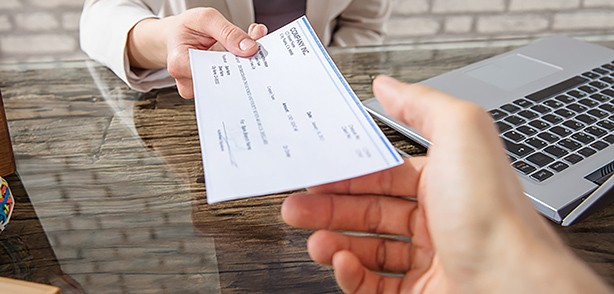 With the rise of online banking, people no longer rely on physical checks for all their financial transactions. However, business checks are an exception to this rule. So if you own a business, you should get familiar with business checks and know how to cash them.
Opening a business bank account remains the safest and most efficient option for cashing a business check. Having a business account also tells your customers and business partners that you are a legitimate, trusted business. Furthermore, attempting to cash a business check without a business account can prove tricky.
However, if you don't yet have a business bank account, you can still use other options to cash a business check. Here, we discuss all the options at your disposal while going over different types of business checks.
What Is a Business Check, and How Does It Differ from a Personal Check?
You may have never come across a business check until forming your business. Before that time, you probably cashed checks into your personal checking or savings account.
Alternatively, you may have cashed a business check in the form of a payroll check. However, your employer probably issued that check to you as an individual.
Cashing business checks involves much of the same process as cashing personal checks. Nonetheless, you should understand that you can only use a business check for your business and its assets. In other words, the money in a business check belongs to your business, not to you.
Furthermore, businesses exchange business checks among one another. Specifically, one company will often issue a check to another company. For example, a company pays a supplier by giving a check to them rather than distributing checks to each person employed by the supplier.
Business checks also physically differ from personal checks. If you want to order checks for your business, know that business checks come in these two main types:
Manual checks. These checks are conventional checks written out by hand. They are physically larger than personal checks though they require personal information such as address labels. Many small businesses prefer manual checks because they don't often need to issue checks.
Laser-printed computer checks. Many businesses that frequently issue checks prefer using laser checks. Accounting software such as QuickBooks allows you to print these checks quickly. Computer checks also enable you to monitor your checks online.
Different Types of Businesses and Their Check-Cashing Procedures
If you own a small business and are the sole proprietor, you can cash business checks easily. However, this process gets trickier if you receive a check made out to your business rather than you.
So, let's examine how cashing a business check varies depending on the type of business you own:
Sole proprietorship. You and your business are essentially interchangeable if you're the sole proprietor of your business. As a result, you can cash checks issued to your company. However, depending on your bank's policies, you may have to add a "doing business as" (DBA) designation to your bank account before cashing business checks.
Corporation, partnership, or LLC. Without a business account, cashing a business check is harder if your business is a shared versus sole proprietorship. In that case, a bank requires you and all the other co-owners to approve cashing a check. Your bank may also require all owners to be physically present when cashing business checks.
How Do I Cash a Business Check?
First, you should know that cashing a business check is not the same as depositing a business check. You can deposit a business check even if you're not the authorized owner of the company. However, cashing a business check is a different matter since you're profiting from accessing that cash.
Let's now explore the numerous ways of cashing a business check. Setting up a business bank account is by far the easiest and most hassle-free way of cashing a business check. Such an account is especially useful if you have a shared corporate entity.
Yet, for whatever reason, you may have to delay setting up a business account. Fortunately, you can take advantage of these other options to cash a business check:
Visit the issuing bank. The payer's bank can probably cash the check for you even if you don't have an account with that bank. However, the bank may require you to present a government-issued I.D. such as your driver's license or passport. The bank may also charge a handling fee for cashing the check.
Visit a check-cashing center. Major retailers like Walmart and Kroger have check-cashing centers that permit you to cash business checks. Yet, unlike banks, these centers are not free as they charge a fee for each check cashed. Alternatively, the center might withhold a percentage of the check's amount.
Visit a money center. A money center functions similarly to a bank but raises its funds from domestic and international money markets. You can usually cash a business check with a money center, but a center usually charges a fee and requires you to fill out an application.
Use a prepaid debit card. A prepaid debit card acts the same way as a checking account debit card. Specifically, you can use this debit card to deposit your business check then access the cash from an ATM or bank. A prepaid debit card also offers mobile services such as digital uploading of checks.
Conclusion
As it's so straightforward to set up a business account, we at Nearside recommend doing so for cashing business checks. Forming a business account does not require you to jump through unnecessary hoops or pay various fees to cash your business checks. Moreover, cashing a business check with your bank is by far the most high-security option versus the other check-cashing methods.
At Nearside, we make it easy for you to open and operate a business checking account for your small business. We offer FDIC-insured business banking with no fees—and plenty of cashback rewards. In addition, our user-friendly system makes sending and receiving money for your business a breeze.