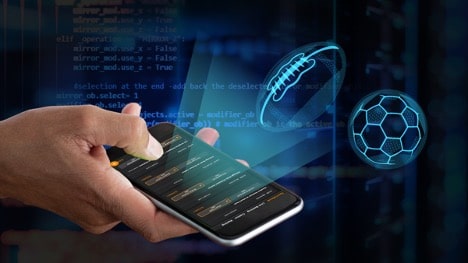 How Technology and Data Are Changing the Sports Betting Industry
Ever since the U.S. Supreme Court overturned a ban on sports betting in 2018, the industry has changed forever. In March 2021, Goldman Sachs forecasted the online sports betting market in the U.S. would be worth $40 billion by 2033.
With the industry booming, technology companies lead the way. Real-time data analysis has become one of the focal points for delivering information to fans and bettors alike, almost instantaneously.
Take a closer look at how technology and data are changing the sports betting industry.
The Positive Impact of Technology in Sports Betting
Before the coronavirus pandemic, the global sports betting and lottery industry was a $218.5 market. As the sports world returned to normal, so did the betting markets, which continued to evolve and expand.
Technology drives those changes with advanced algorithms to provide sports bettors with live in-play betting. Thus, it creates vast new streams of revenue based on who has the best chances of scoring next, how well individual players may perform, and odds that are updated constantly.
Not only does this boost revenue potential, but it also revitalizes each game to make it more exciting and fun. That also increases the number of people tuning in to watch live sports, creating more advertising revenue for professional leagues and teams.
There is more incentive for the growth and expansion of technology companies to deliver statistics for live matchups. Some sports betting companies have even merged with virtual technology (VR) to allow bettors the chance to gamble on virtual events.
Through artificial intelligence (AI) and machine learning, sports betting companies can aggregate data into algorithms that offer the best possible odds. This creates a lot of healthy competition where bettors then decide which sportsbook suits them the most.
There are even sites fully dedicated to analyzing the sports betting industry to find top-rated online sportsbooks. Using data to make the industry better is paramount.
How Data is Changing the Industry
Data in sports betting comes from accumulating statistics based on previous histories of matchups, trends, winning and losing streaks, and more. More recently, partnerships between sportsbooks, professional sports leagues, and teams have accelerated growth.
Data collected during live play include biometrics, sensors, and other analytics to provide companies with valuable information. Some players have even agreed to sell that data to third parties, much like advertisers do through social media activity.
For example, through measuring in-game data, the NFL discovered that they were losing $500 million due to injuries. Now that teams can monitor things like muscle exertion and blood glucose levels, this information can help prevent players from getting hurt.
Translate that to the world of fantasy sports or online wagering, and it increases the chances that star athletes remain as healthy as possible throughout any given season. That should give bettors more incentive to tune in and see their favorite players follow up with their bets.
Additionally, intermediate to advanced bettors might be more inclined to find the best odds for their propositional bets. That comes from technology companies via sportsbooks to offer constant connectivity, which can also be tracked to maintain the integrity of the sport.
That also leads to sportsbooks knowing more about their customers' betting habits which can help to develop future bonuses and loyalty rewards.
Indeed, data applications in the sports betting industry remain at the cusp of something that's only in its infancy.
The possibilities are endless.
Key Takeaways
The types of data that software companies analyze typically depend on the sport. In basketball, data might come from speed, accuracy, and maneuverability. Whereas, in an American football game, companies might look for historical trends.
When it comes to betting, looking for trends is undoubtedly a key to winning more than you lose. Big data comes with a price. It enhances entertainment factors through live betting, which is seen as a big boon for the industry.
In the past, sports betting might have offered fixed odds before any given matchup. Now, those odds change constantly, giving both bettors and sportsbooks more chances to place their wagers with a revenue boost.
Data companies that dominate the industry have a near-monopoly for accumulating statistics for professional sports leagues like the NFL, NFL, NBA, and even NASCAR.
An average fan of sports might be more inclined to watch more often if some sportsbook package was associated with their cable bill. Something like that is probably not too far off.
Data and Technology Have Become Essential to Sports Betting
For now, data and technology in sports betting come through mobile and desktop applications. But you can be sure that telecommunications companies will be getting in on the action. (For example, FOX has even developed its mobile betting app.)
Sports betting analytics have become crucially intertwined with the industry has increased over the last two or three years. From studying player movements to monetizing the health data of star athletes, data and technology utterly transformed sports betting to the point where even sportsbooks have to catch up with how fast things are evolving.
This all benefits bettors from the standpoint of making things more entertaining. And it brings in new viewership for certain sports leagues that might have otherwise seen a slowdown in ratings and advertising revenue.
Partnerships between big data companies, professional sports leagues, and the betting industry might have revolutionized sports forever. Now, it's up to bettors, consumers, sports unions, and league officials to ensure that big data is used to advance everyone involved.
Conclusion
Data and technology have changed the sports betting industry so much in such a short span of time that it almost seemingly came out of nowhere. In truth, most adults worldwide have a smartphone—and gambling is a pastime that's been around for centuries.
The exponential growth of the sports betting industry owes a lot of its booming market share to the rapid advancements of technology to aggregate and analyze data. Delivering that to bettors efficiently is only a natural stepping stone in a world that has become much more digital after the coronavirus pandemic.
Now sports betting is within reach to those who might have been just a casual fan beforehand. Many people who probably never even considered placing a bet can download an app from their smartphone, create an account, make a deposit, and get the best odds possible, right from the comfort of their own home.
Author's Bio 
Bryan Myers is a freelance writer from the U.S. In 2019, he traveled to 12 countries around the world. He also teaches English online. Currently, he's living back in the U.S after being away for three years. He's been writing for Safest Betting Sites since August 2019, covering the 2020 U.S. Election, entertainment, crypto, online casinos, and sports betting.