Lithium is a solid element used in various industries, but most notably in electronics and construction. It has a high energy density level and is considered the most promising metal for green energy storage.
In terms of investment, lithium stocks are shares of companies that produce or mine lithium. These companies extract lithium from different sources that commonly include brine, hard rock, pegmatite, and spodumene ore deposits.
The value of lithium stocks fluctuates based on the demand for the metal, which may also vary depending on the available supply. However, stocks have been rising over the past few years due to the increased demand for lithium-ion batteries used in electric vehicles and smartphones. Moreover, although it's not a precious metal, many companies have already invested in mining lithium because of its rapid market growth. In fact, according to moneymorning.com.au, last year, 2021, was a pivotal year for lithium. So, if you haven't invested in it yet, take all considerations into account and grab the opportunity to do so this year.
If you're still on the fence, here are the many ways it could help power up your investment portfolio:
Its Dynamic Properties Are In High Demand
Lithium is a rare earth metal. Its unique and light physical properties make it useful in creating a multitude of products. The most common perhaps is its use in the production of rechargeable lithium-ion batteries. Although less known, it's also used in the production of glasses, ceramics, toys, digital devices, and even pharmaceutical products.
The widespread use of lithium has put it in the spotlight as a highly demanded metal. Its broad application also boosts its potential to be a popular choice material in other manufacturing industries such as the electric auto industry. With the growing demand for this rare and dynamic metal, it's a promising stock option to have in your portfolio.
Its Viability Can Help Strengthen Your Portfolio
Lithium stocks have been on a roller coaster ride over the past few years with wild swings in prices. However, it's worth noting that they're still considered one of the best options for investors who want to diversify their portfolios.
The potential for lithium prices to increase is high. Different nations are beginning to consider electric vehicles powered by lithium batteries as an alternative to conventional vehicles that run on fuel. Furthermore, the encouragement of eco-friendly practices across the globe plays a significant role in fostering the anticipated rise in lithium prices. With these innovations, investors who have lithium in their portfolios can look forward to potentially favorable investment returns.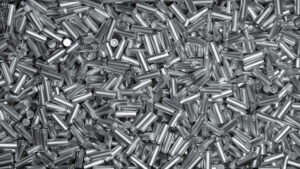 It Offers Diverse Investment Options
There are also many ways to invest in lithium. You could either opt for long-term investments or exchange-traded fund (ETF) options. Long-term options allow for direct investment in lithium stocks. On the other hand, exchange-traded funds give more room for exposure and diversification. Most investors prefer to track individual lithium stocks and invest in them directly. Those who are not comfortable with this option will find a lithium-focused exchange-traded fund a more suitable alternative.
Having an investment strategy that suits your term preferences will help you make investment decisions you're more confident in. This is important if you want better control over your portfolio, especially if you need to strengthen it.
It Has A Large Market Opportunity
The market opportunity for lithium is expected to grow significantly over the next ten years due to its use in battery production and new developments in renewable energy sources such as wind turbines and solar panels. Lithium-ion batteries are also a preferred option for powering electric vehicles and consumer-based electronics such as tablets and telephones.
With the world looking more in the direction of electric vehicles, it's likely that lithium will grow as an indispensable technological material in several markets. Predictably, the lithium market size will likely experience compound growth, creating more opportunities for investors to bag more fortunes.
It's More Affordable
Most of the time, investment opportunities are highly dependent on stock prices. Thus, investors with less investing capital may often find themselves limited when it comes to options and access. Therefore, prices can become stumbling blocks. Nevertheless, investors can take solace because lithium stock prices are not carved in stone. Though usually high, they sometimes vary so much that one only needs to be patient and resourceful enough with research to find the lowest prices. Investors who may not have high investment capital, but can keep an eye on lithium's market movement, can take advantage of price fluctuations and the anticipated lithium stock boom.
Conclusion
In the past, lithium was only more beneficial in the field of medicine. However, since the invention of electric vehicles and the massive demand for lithium-ion batteries, lithium stocks have become a viable investment opportunity for investors. If lithium's demand keeps rising, lithium stocks will become more attractive in the future. Investing in them will most likely help to boost your investment portfolio in many ways.