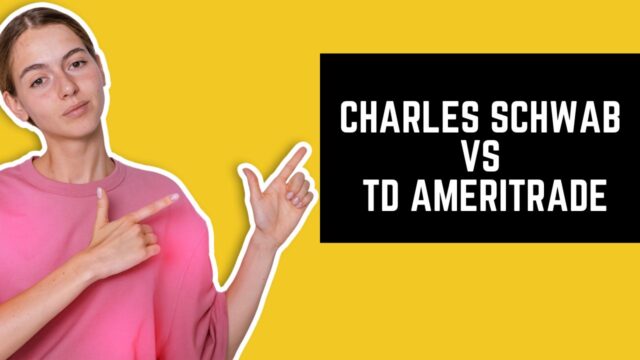 Investing in the stock market can be daunting, especially for beginners. With so many brokerages to choose from, it can be overwhelming to determine which one is right for you. Two popular options are Charles Schwab and TD Ameritrade. In this blog post, we will compare and contrast these two brokerages to help you make an informed decision on which one is better for your investment needs.
1. Fees and Commissions:
One of the most significant factors to consider when choosing a brokerage is fees and commissions. Charles Schwab has recently eliminated commission fees for stocks, ETFs, and options trading, while TD Ameritrade still charges $0.65 per options contract. Charles Schwab also has no account minimums, whereas TD Ameritrade requires a $0 balance to open an account. This makes Charles Schwab a better option for beginner investors who don't have a lot of capital to start.
2. Investment Options:
Both brokerages offer a wide variety of investment options, including stocks, bonds, mutual funds, ETFs, and options. TD Ameritrade, however, has a larger selection of mutual funds, including no-fee mutual funds that can help investors save on expenses. In terms of international investing, Charles Schwab shines with access to over 40 foreign stock exchanges, while TD Ameritrade has only 20.
3. Trading Platforms:
Both Charles Schwab and TD Ameritrade have robust trading platforms that cater to different investors' needs. Charles Schwab's trading platform is user-friendly and straightforward, making it ideal for beginners. It also offers a mobile app that provides access to account information, trade executions, and more. TD Ameritrade's Thinkorswim platform, on the other hand, is more advanced, which makes it an ideal platform for experienced traders looking for more features and customization.
4. Customer Service:
Another important factor to consider is customer service quality. Charles Schwab has over 300 physical locations, where you can get help from financial advisors if you need any assistance. TD Ameritrade also offers customer support through phone, email, and chat, available 24/7. Both brokerages offer educational resources and tools to help investors learn about personal finance and investing.
5. Security and Safety:
Both Charles Schwab and TD Ameritrade are regulated by regulatory agencies such as FINRA and the SEC. The brokerages also offer insurance through the Securities Investor Protection Corporation (SIPC), which offers protection on securities held in customers' brokerage accounts. This ensures that investors' assets are safe and protected, even if the brokerages go bankrupt.
Conclusion:
Both Charles Schwab and TD Ameritrade are excellent brokerages, but the right one for you will depend on your individual preferences and investment goals. If you're a beginner or a small investor, Charles Schwab's commission-free trading and zero account minimums may be the better option. On the other hand, if you're an experienced trader looking for a more versatile platform and a vast selection of mutual funds, TD Ameritrade may be the better choice. Ultimately, thorough research and analysis of your individual circumstances can help you make the best decision for your personal investing needs.