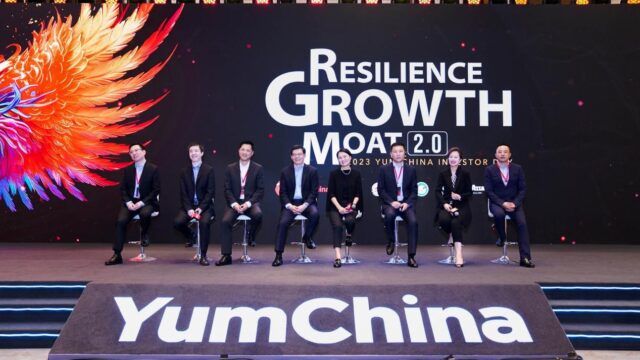 Yum China Holdings Inc. (NYSE: YUMC and HKEX: 9987), which operates KFC and Pizza Hut in China, is adopting a more growth-oriented business strategy and setting more aggressive financial targets for the coming three years as it strives towards its goal to reach 20,000 stores by 2026, CEO Joey Wat announced at the company's recent 2023 Investor Day in Xi'an, China.
For 2024 through 2026, Yum China is targeting high-single-to-double-digit CAGR for system sales and operating profit as well as double-digit EPS CAGR, compared to base year 2023 and in constant currency.
"Our ambitious financial growth targets reflect our unwavering commitment to delivering value to our shareholders, affirming our confidence in our prospects, expanding our reach, and driving robust growth," Wat said.
Yum China's refreshed strategy, which the company calls "RGM 2.0", focuses on rapid store expansion, aiming to add approximately 1,800 net new stores annually over the next three years, while continuing to drive sales and profit growth. RGM 2.0 builds on the strong position the company achieved with its original "RGM" ("Resilience, Growth, at Moat") strategy launched in 2021 during the pandemic.
The company plans to accelerate its footprint growth across both high- and low-tier cities by leveraging flexible store formats and partnering with franchisees. KFC, for example, is aiming for 15% to 20% of its new store openings over the next three years to be franchise stores, enabling it to tap into strategic locations such as highway service centers, hospitals and college campuses. Yum China's recently-introduced integrated digital solution for franchise management will better support this expansion while making management and quality control more efficient. With delivery increasingly important to its overall sales mix, Pizza Hut is planning to expand its proven satellite store format to gain a greater share of the delivery market and improve its delivery speed. This helps to ensure that food arrives hot, helping to improve customer experience.
Driving sales growth remains a top priority for Yum China, fueled by delicious and innovative food offerings and strong value for money to win over customers. KFC has added more food categories to appeal to consumers' diverse tastes, such as its Juicy Whole Chicken, new chicken burgers, a Bullfrog Taco, and the "K-zza", a creative twist on pizza. KFC is also strongly committed to value, with its perennially popular "Crazy Thursday" promotion and ¥19.9 Weekday Value Combos. KFC is also harnessing China's growing taste for coffee with its K-Coffee segment. The brand estimates that K-Coffee will reach 180 million cups sold in 2023, an annual increase of 30%, with double-digit growth predicted to continue over the next several years.
Pizza Hut has reinforced its image as a pizza expert in recent years through improving the taste of its Pan Pizzas, Hand-Tossed Pizzas and Super Supreme Pizza. This month, it is also introducing premium Lavazza coffee at is restaurants, leveraging Yum China's joint venture with the storied Italian coffee brand. In addition, it is widening price points on its menu to serve the everyday needs for a wider variety of consumers, including an expanded array of breakfast and individual meal options.
Meanwhile, Yum China is continuing its long-term cost structure rebasing efforts to enhance resilience and grow profits. Notably, the company reduced its top-three store-level fixed costs by 20-25% compared to the first half of 2019. Key initiatives include empowering capable restaurant general managers to manage multiple stores; lowering rental costs by pursuing more favorable rental agreements and shifting more rental costs from fixed to variable; and enhancing labor productivity through digital and automation investments.
"As we continue to expand, we believe our improved cost structure and proactive cost management will enable us to sustain and potentially improve our profitability over time," Wat said.
As it pursues its aggressive three-year growth targets, Yum China will maintain its balanced and systematic approach to capital allocation in the years ahead. The company has earmarked capital expenditures of $3.5 to $5 billion over the next three years to grow and refine its store network, enhance its supply chain infrastructure and further boost its digital capabilities. At the same time, the company remains committed to returning excess capital to shareholders, planning to return approximately $3 billion to investors through increased quarterly dividends and share repurchases during the same three-year period.
At Investor Day, Yum China also updated full year targets for 2023, increasing its net new stores target for 2023 to 1,400-1,600, up from its previous goal of 1,100 to 1,300, while maintaining its previously announced capital expenditure range of $700 to $900 million. The company also expects same-store sales recovery to continue at a stable pace, achieving 90% of 2019 levels for the full year 2023.
Wat reiterated that despite the slower pace of China's economic growth in recent years, the scale of the country's economy presents enormous future growth opportunity. She emphasized that China's pace of urbanization is still quite rapid, with roughly 14 million people moving to urban areas each year. Meanwhile, quick service retail penetration in China is still very low compared with other developed countries, with demand far exceeding current supply.
"Having steadily built up world-class capabilities, an amazing team and powerful brands, we are quite confident that we can put forward these ambitious targets," Wat said.
Following Yum China's Investor Day, Bank of America Securities, Goldman Sachs, HSBC, Nomura, and UBS maintained their "Buy" rating for the company's stock, while CLSA upgraded its rating from "Outperform (Accumulate)" to "Buy." Analysts noted Yum China's digital and supply chain capabilities as important competitive advantages in the current landscape, and reacted positively to the company's commitments to margin expansion and increased shareholder returns.