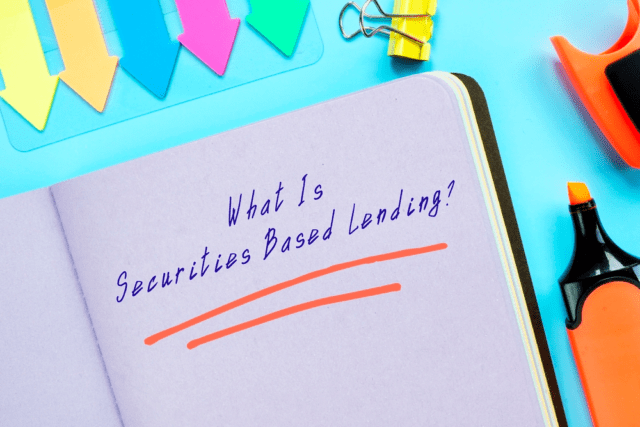 If you're looking to diversify the loan options that you offer to your clients, securities-based lending should be on your radar. This popular form of lending utilizes securities as collateral, and provides borrowers with more flexibility in how they spend their funds. It also boasts a quick approval process.
Keep reading to learn what you need to know about securities-based lending for your business.
What is Securities-Based Lending?
Securities-based lending, or SBL, is when a loan is backed by securities. A security is a type of financial instrument that is tradable and fungible. Securities are divided into three categories: equity, debt, and hybrids. Equity is a type of security that the holder owns. Debt is a type of equity in which the holder is making payments toward. Hybrids are a combination of the two. Some common types of securities include a stock holding, a bond, or a relationship between a creditor and government body.
With securities-based lending, the chosen security, whether it's a stock or debt, is used as collateral for the loan. Securities-based loans are available to both businesses and individuals. However, they do usually require a high amount of capitol and a high net worth in order to qualify.
The Benefits of Securities-Based Lending
There are a number of benefits to opting for securities-based lending. If a business or individual has assets such as stocks or bonds, a securities-based loan allows them to utilize their investments without having to sell them. If a borrower intends to make payments on time and in-full, they'll be able to reap the benefits of a loan while also allowing their investments to continue to grow.
From a financial standpoint, having to sell stocks in order to pay for a project or purchase could also mean facing high capital gains taxes. By offering securities-based lending, you'll be offering your clients the option to get the funds they need without facing a big bill come tax time.
Another benefit of securities-based lending is that these loans often have a lower interest rate compared to other types of loans. This is an attractive perk to your customers, as it means gaining access to the money that they need without spending more than they need to. Securities-backed loans usually have no fees as well.
Offering Securities-Based Lending to Your Clients
Adding securities-based lending for your clients is a great way to diversify the resources you are able to offer. Your clients will enjoy greater flexibility over their borrowing, as well as the option to borrow money without having to disrupt their other financial plans, like their investment portfolio.
The approval process for a security-backed loan is quick and simple, which means that your clients can enjoy access to their cash faster; and you'll secure more loans as a result. Another great perk for both business and individual clients is that the funds from these loans can be used for a variety of purposes, often with very flexible terms.
For your business clients, securities-based lending is also a great flexible option. You can use it to recruit advisors that may already have a book of clients with existing loans that would otherwise need to be repaid before those advisors could access their assets.
Rethinking Your Business Funding
Securities-based lending offers a quick approval process, flexible loan terms, and the ability to keep your other financial goals on track while still accessing the funds you need. Adding this option for your business or individual clients can be a great way to help them meet their goals in 2023.