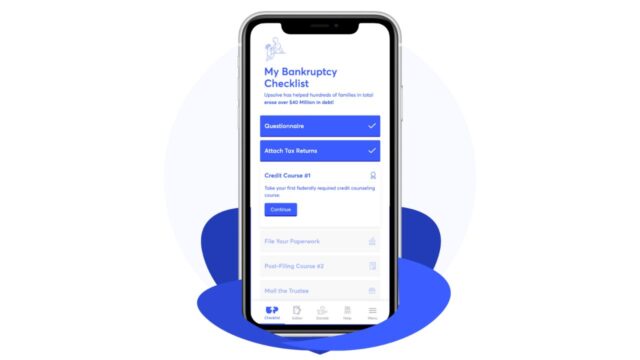 Filing for bankruptcy can be a daunting process that comes with numerous financial, legal, and emotional challenges. The good news is that you don't have to face it alone. With the rise of online bankruptcy support services, you can get expert guidance and assistance to navigate the complex bankruptcy system, streamline your paperwork, and regain your financial freedom.
One such service that you might have heard of is Upsolve, a non-profit organization that helps eligible individuals file for Chapter 7 bankruptcy for free. But, is Upsolve legit? In this blog post, we'll answer that question and provide you with a comprehensive guide to its services, fees, reputation, and customer reviews.
What is Upsolve?
Upsolve is a non-profit organization that provides free support and resources to low-income individuals who want to file for Chapter 7 bankruptcy. Chapter 7 bankruptcy allows you to wipe out most of your unsecured debts, such as credit card balances, medical bills, and personal loans, without having to repay them.
Upsolve's mission is to make the bankruptcy process more accessible and affordable for people who can't afford the high attorney fees often associated with bankruptcy cases. Upsolve is based in New York City but serves users nationwide.
How does Upsolve work?
Upsolve's bankruptcy filing process consists of three main steps:
1. Eligibility check: You start by answering a few simple questions on Upsolve's website to determine if you're eligible for Chapter 7 bankruptcy. To qualify, you must meet income requirements, pass the means test, and have no assets that could be sold to pay off your debt.
2. Paperwork preparation: Once you're eligible, Upsolve's software generates all the bankruptcy forms and instructions you need to file for Chapter 7 bankruptcy. You just need to follow the guidelines and provide accurate information. Upsolve's legal team reviews your forms and provides feedback to ensure that everything is complete and accurate.
3. Filing and court representation: After you've completed the forms and reviewed them with Upsolve's team, they'll file them with the bankruptcy court on your behalf. Upsolve also provides representation and support during court hearings and meetings.
Is Upsolve legit?
Upsolve is a safe, secure, and legitimate organization that has helped thousands of people file for bankruptcy without paying high attorney fees. Upsolve is a non-profit organization that operates under the supervision and regulation of the federal bankruptcy court. Upsolve's legal team comprises of attorneys who are well versed in the bankruptcy system and who have also gone through a rigorous training process to work for Upsolve.
Upsolve is completely legitimate, and you should not hesitate to use their services if you qualify.
What are the fees for Upsolve's services?
Upsolve's services are entirely free if you're eligible for Chapter 7 bankruptcy. There are no hidden fees or charges. However, if you're not eligible, Upsolve may refer you to a pro bono attorney, offer you alternative options or suggest other low-cost providers.
What are people saying about Upsolve?
Upsolve has received numerous positive reviews and testimonials from satisfied clients who have used its services to achieve debt relief. Here are some of the common themes from these reviews:
Upsolve's software is easy to use, and the instructions are clear and straightforward.
Upsolve's team responds promptly to questions and concerns and is highly knowledgeable about the bankruptcy process.
Upsolve's services are entirely free and a great alternative to expensive attorneys.
Upsolve's support is non-judgmental, empathetic, and compassionate.
In conclusion, Upsolve is a legitimate organization that provides valuable bankruptcy support services to low-income individuals. If you qualify for Chapter 7 bankruptcy, Upsolve can help you prepare your bankruptcy forms, file them with the court, and represent you during court proceedings, all without charging any fees. Upsolve's services have received positive reviews and testimonials from clients who appreciate their quality, accessibility, and affordability. If you're considering filing for bankruptcy, Upsolve could be the right solution for you.