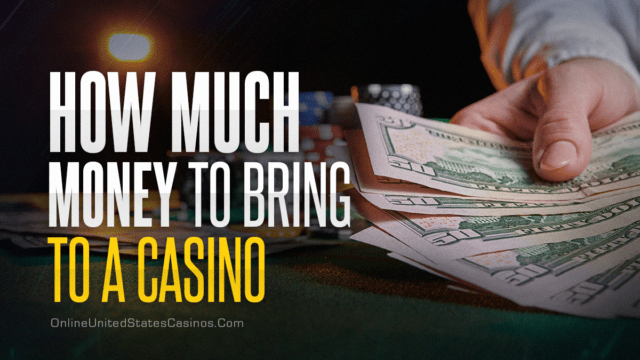 If you are considering making a gambling-related trip but have little experience concerning casino games, you may be wondering how much money you should bring. The answer usually is at least $100, but a better suggestion is around $500 to enjoy a holiday of casino-style entertainment.
Naturally, your betting budget depends on several things. The two primary elements are how much you can afford to set aside for this pastime and what games you are thinking about playing. The latter is crucial because different games can get played at different speeds, and minimum wager limits can drastically differ from casino game to casino game. For example, slots can accept penny bets, but the cheapest blackjack table at higher-end establishments will often have a $5 bet minimum. Clearly, how much you can wager per round and at what speed you can play a game will dramatically affect how quickly you can burn through your allotted funds.
An older, 1990s research conducted by PBS' Frontline team concluded that Vegas visitors granted themselves around $580 for gambling fun and played around four hours per day when in Sin City. A 2018 Las Vegas Convention and Visitors Authority survey showed that not much has changed in Vegas in the past twenty years or so, as it reported the average Vegas tourist now spends $527 per night on gambling. Moreover, only 22% of Vegas visitors gamble more than $600 when in Nevada on vacation.
Casino Player Bankroll Strategy
Knowing how to allocate funds properly and sticking to pre-defined benchmarks are powerful tools in any business endeavor. Since gambling involves investment, risk, and profits, it is also a quintessential component of the gaming experience. Because not following tried-and-tested casino bankroll management tips can lead gamblers on a road where the end destination is destitute.
As discussed above, the optimal size of your casino bankroll hangs on a concoction made up of your experience level, chosen games, and goals. If you are a casual player only seeking entertainment, err on the side of caution and maintain a conservative gambling budget. Those that engage in games of chance as a means of steady income require a higher-than-average bankroll. It is a necessity for surviving losing streaks and a requirement for remaining adequately funded in long sessions.
It is paramount that you stick to your plan, only carry what you can spend, select games with favorable odds, play them slowly, utilize strategies, and never chase losses. Also, it is not a bad idea to set a max win limit, which will signal that you have accomplished your goal and that it is time to walk away.
Blackjack Bankroll Strategy
Blackjack is most veteran gamblers' favorite casino product because when they utilize optimal strategy, the game's house edge can drop to 0.5%. So, it features close to 50/50 odds. When combining this super low house advantage with a wisely budgeted session, blackjack is likely the best game on any casino floor.
If you are curious regarding how to calculate blackjack bankroll ideally, the first step is to divide your session into betting units. As a rule of thumb, it is never smart to play over one hundred betting units for a three/four hour period when seated at table games. That means that if the table you are looking to play at has a $5 minimum, and you are a low-roller, you should have $500 in your pocket, hopefully, for at least three hours of betting fun.
Roulette Bankroll Strategy
Roulette is unique given that it offers you the chance to make various bets, including ones that supply a close to 50% chance of winning. These are odds/even, red/black, high/low wagers. The house edge of the European version of this game, which has one green/zero pocket is 2.7%, while the American variant (two green/zero pockets) boasts one that is 5.26%.
Essentially, the described blackjack unit system also applies to roulette. Yet, this game is different because its almost 50/50 per-round-winning probability makes it ideal for negative-progression system use. Such patterns rely on the notion that in a coin flip, the outcome will vary. The coin will not continuously fall on one of its sides. Hence, if a player doubles up on his wager following each loss, he will eventually recoup his losses and profit. Setting a negative progression budget can be tricky, but the more money one has to bet, the better. Remember that starting with a small initial wager is always vital.
Online Slots Bankroll Strategy
There are hundreds of online slots that accept bet sizes as small as a penny. The current industry standard is around $0.25 per spin. So, if you pick low variance spinners, you can make a $100 last for an entire day of reel-spinning action.
For more gambling news and reviews, visit OUSC.