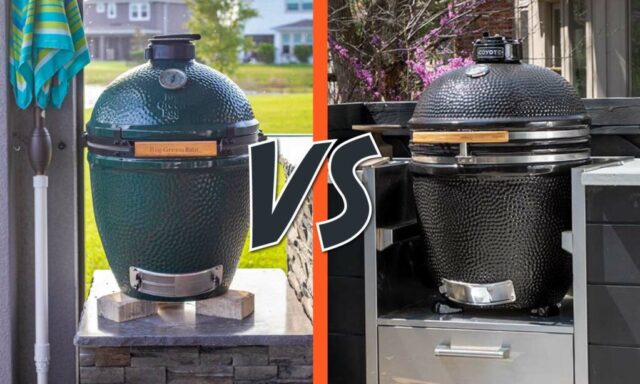 Grilling has come a long way from the simple charcoal devices commonly available in the past. Today's grills are more efficient, last longer, and produce better food. But, which grill should shoppers buy? To make that decision, review the best features of kamado cookers. At that point, it'll be far easier to make an appropriate buying decision. Here are just a few features to look for when shopping for a new grill.
First, What is a Kamado Grill?
Before anyone starts shopping, understanding what a kamado grill is and why they're so popular today is crucial. Briefly, a kamado grill is an insulated ceramic grill designed to mimic traditional Japanese cooking devices. As a rule, they're egg-shaped, which allows a more efficient flow of warm air around the cooker's contents. Dampers at the bottom and top of the grill control the air entering the cooker. By carefully adjusting the dampers, operators accurately control the cooking temperatures in the best kamado cookers.
The first kamado-style grill introduced in the U.S. made its appearance in the 1970s. The Big Green Egg has been a top-rated kamado-stylo grill ever since. Most grilling experts agree that ceramic grills provide the best results, but many manufacturers are now producing kamado grills using double-wall steel and other metals. Today, experts don't all agree on which kamado grill to choose, but they all agree the cooking advantages of the grills far surpass those of other grill types.
Features to Look for When Buying a Kamado Grill
Since different kamado grills offer different advantages, review the qualities grill experts recommend. Once shoppers understand what to look for, selecting the best option for their needs is easier. Here are a few elements to look for in a new kamado grill.
Choose the Correct Size for Your Needs. Most manufacturers produce multiple models in different sizes. If the grill is used on an apartment balcony, a smaller cooker will be a better choice. On the other hand, grilling for a large family dictates that the grill should be larger.
Understand the Assembly Requirements. Many models require the buyer to assemble the cooker. That's not always complicated, but remember that these cookers are heavy and awkward to move. Choosing a model that doesn't require much (or any) assembly is a better option for people who'd rather just add charcoal and start grilling their favorite foods.
Review the Included Accessories. Not all grills include everything you'll need to cook the foods you're looking forward to enjoying. Some models require buyers to purchase accessories like a plate setter, deflectors, and a stand. Other models include those accessories and others, making it less complicated to start using the grill.
Quality of the Components. Evaluate the quality of the shell itself plus the dampers, the grill, and elements like hinges and latches. For example, a heavy, cast grill will last far longer than a stamped steel grill. The latch should provide a solid, reliable seal during cooking and when moving the grill is required.
Of course, different owners will have some of their own unique requirements, which makes reviewing the features of every contender carefully before purchasing one. The price will always be a factor, but remember that a quality kamado cooker will always cost more, so don't let price be the primary factor when buying a new grill.
Making Your Decision
When deciding which kamado cooker to purchase, don't forget about cosmetic features. Your new grill should look good, be available in attractive colors, and be readily available in your area. Once you've evaluated all the options, make your decision and start grilling!