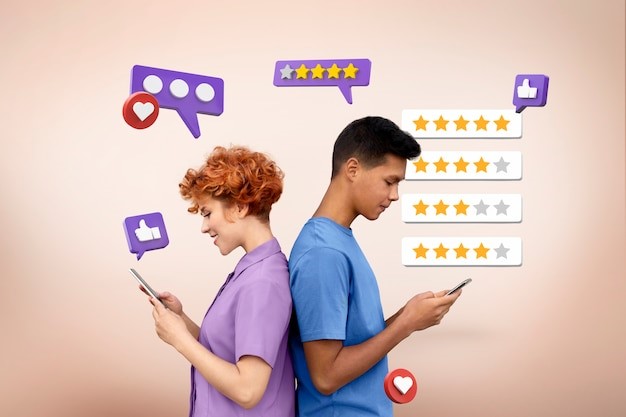 A line of credit is just like anything else you get online. You're going to want to check the online reviews to see if it's legit before you commit.
You wouldn't be the only one. Research shows 90% of consumers base their buying decisions on reviews they find online. They take in both positive and negative reviews before they purchase anything from a company.
This is a good policy to have, especially if you're shopping for an online line of credit. Online reviews can give a behind-the-scenes look at the average customer's borrowing experience, easily dividing legitimate lenders from those with terrible online reputations.
But are online reviews the only things you should consider when looking for a line of credit? Not at all.
How Can Online Reviews Help You?
Online reviews are helpful because they're social proof that other people have borrowed before. Reviews also provide insider information you can't find on a lender's website.
That's not to say a lender's website isn't important. A lender like Fora Credit publishes all the information you need to understand how much a line of credit will cost. You cannot overlook these details when shopping for a loan. They provide the black and white of your loan.
However, reviews highlight anecdotal information about what it's like taking out a line of credit from the borrower's point of view. They can be cautionary tales describing expensive and frustrating disputes, or they may share the names of helpful representatives who simplified the borrowing experience.
Can All Online Reviews Be Trusted?
Sadly, not all online reviews are legitimate. Some are paid. Others are fake, created by bots or written by communications teams. These deceptive practices can flood a lender's online reviews with less-than-trustworthy information.
How to Judge the Veracity of Online Reviews
It's not always easy to discern which reviews are real and which ones are fake. However, these tips from the Federal Trade Commission can help you separate fact from fiction.
Check Multiple Sources
A quick Google search of a lender will generate the company's Google reviews, but don't stop there. To get a better feel for a lender's reputation, you'll want to check out these third-party sites:
Better Business Bureau
Finder
Trustpilot
Value Larger Data Sets
You'll want to prioritize companies that have many reviews spread over time. The more reviews there are, the less likely they're fake. After all, it would take a lot of time and effort for a lender to falsify thousands of reviews over decades.
Beware of review bursts published over a short period — these could be fake.
Consider the Average
A single review can change your mind about a lender if it's written well enough, but one review is never a perfect representation of the borrowing experience — good or bad.
Let's say you're choosing between two lenders. One has a single 5-star review, and the other has a hundred 3-star ratings. The one with more reviews is less likely to be fake.
Review the Reviewer
On websites like Trustpilot, you can click on a user to see if they've left other reviews. A user with multiple reviews for different companies (across various industries) is less likely to be fake.
What if There Are No Reviews?
While online reviews can reveal some interesting information, they shouldn't form your entire opinion about a lender. A company without reviews could be new, so they may not have received any reviews yet.
Nothing beats good, old-fashioned rate shopping by assessing a lender's website, its security policy, and the cost applied to your line of credit. Reviews should supplement this information, not replace it.