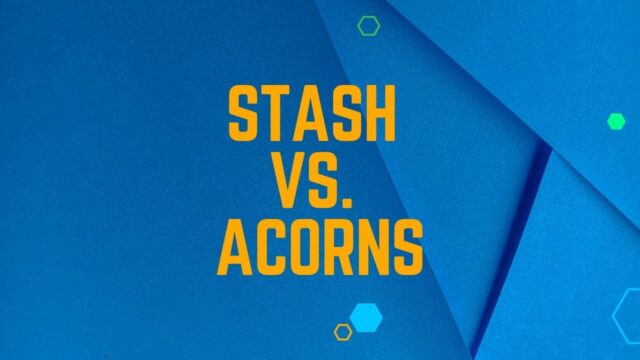 Managing your money can be a real headache, from budgeting to investing, saving and spending, it's not uncommon to feel overwhelmed. Luckily, with the advent of technology, saving and investing your money can be made easier, simpler, and smarter using apps like Stash and Acorns.
Both Stash and Acorns are built to help you invest in stocks and save money effortlessly, making it possible for even those with minimal savings to invest small amounts in big stocks. But which one is right for you? In this blog, we'll explore the differences between Stash and Acorns and help you make an informed decision about which app is best suited to your unique saving and investing needs.
Stash
Stash is an investment app that aims to help people start investing in the stock market with as little as $5. It is a perfect app for new investors, as it offers a selection of investment options tailored to your needs, goals, and risk tolerance. With Stash, you can also take advantage of a wide range of services including fractional shares, personalized advice, and automated investing. They have three different subscription plans—Stash Beginner, Growth, and Stash+. Each plan offers varying features and services, but for starters, the Stash Beginner subscription plan is more than enough.
One of the main draws of Stash is its user-friendly interface. It is straightforward to use, with handy features such as stock and ETF search tools, news and analysis, and educational content. Additionally, Stash offers the option to open a retirement account or IRA, making the app a good choice for building long-term savings.
Acorns
Acorns is another unique app that lets people invest their spare change, rounded up to the nearest dollar, automatically. The app is ideal for people who want to invest but don't have the time or knowledge to make investment decisions. Acorns invests your money across a diversified portfolio of ETFs, which means that even with small amounts of investments, you can still earn returns over time.
With Acorns, you can set up automatic recurring investments or one-off purchases, and you can also use the app to save money. The app has different subscription plans that offer unique features and services each. The Lite plan charges $1 per month, while the Personal plan charges $3 per month. There is also a Family plan that charges $5 per month.
Acorns also provides educational content and investment news, making it a great choice for people who want to learn about personal finance and the world of investing.
Fees and Costs
Costs and fees are important when it comes to investing in any product or service. In terms of monthly fees, both Stash and Acorns have subscription plans that offer a range of benefits and services. In general, the fees charged by both apps are reasonable, and each offers a lot of value for the money. When it comes to pricing, Acorns is on par with Stash, making it a good choice for people who want to try out a subscription-based investing app.
Customer Support
Customer service is often an overlooked consideration when choosing a savings or investing app. However, it's vital to have reliable customer support when you have issues or questions about your investments. Both Stash and Acorns offer customer support services that are available via email, phone, or chat during business hours. However, Stash takes it a step further by offering personalized customer service advisors for premium subscribers.
Conclusion:
So, which is better between Stash and Acorns? It honestly depends on your preferences, investment strategy, and goals. If you're starting out as a new investor and prefer to have more control, Stash is the way to go. But, if you'd like to invest your spare change automatically, set it, and forget it, Acorns might be a better fit for you. Regardless of which app you choose, both are excellent choices for investing beginners who want to start building wealth, saving money, and investing in their financial futures.